The newest piece of trackage is the Boxborough Branch. Yes, that is a joke. The reality is - it's the switch and lead to the new car storage boxes.

-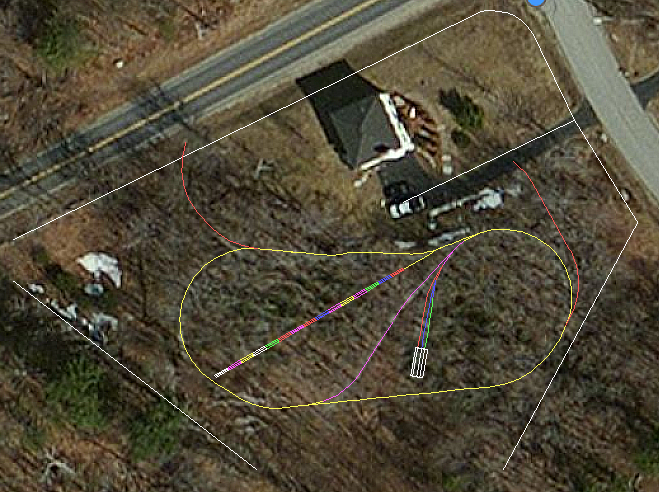 -


The car storage boxes are only a little larger than the cars. They measure 20 inches wide, 28 tall, and 8 feet in length. But they are arranged end-to-end with closures only at the extreme ends. On the floor of the boxes are wooden rails for the cars to roll on.

Because they are placed end-to-end they must follow a straight line without curves or grade changes and without hitting any trees. There are not too many places on my lot to do that. So I had to find one.

There is actually enough room for 15 boxes (see drawing above), enough for storing 22 cars on average. But I will start out with only 3 boxes. That is enough to house what I currently have stored in tents.

-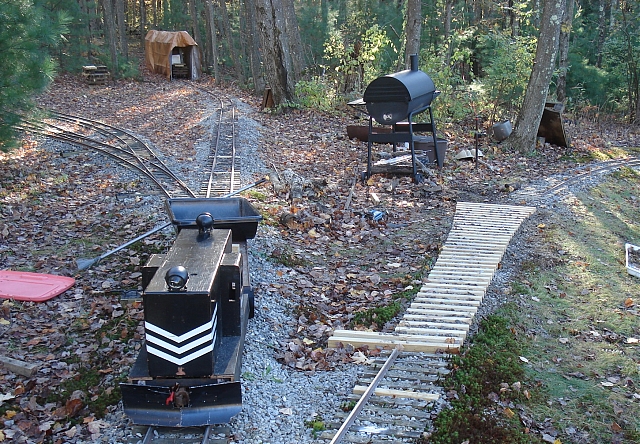 -


In this photo you can see the yards, the tents, and the new switch to the new spur. This switch is another "complex wye" meaning the two branches do not begin curvature at the same location. The left branch is 85 foot radius. The right branch is 40 foot radius, but does not start it's bend until a few feet after the left branch.

-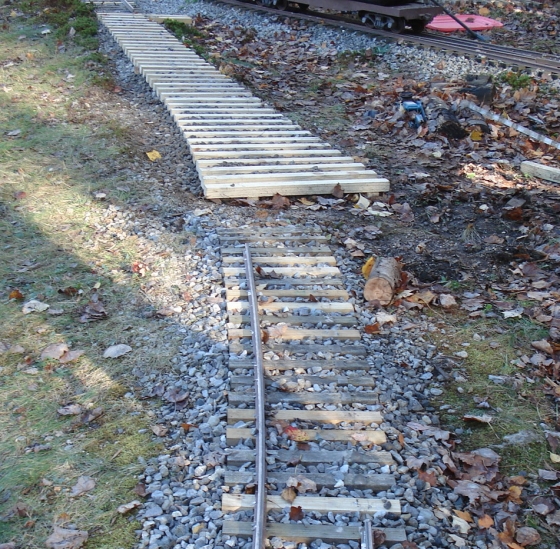 -


Notice that we are coincidentally replacing a section that had a lot of tie replacement. Some ties were totally rotted. Others looked like they could last many more years.
October 22, 2012
Main Line Reopens
-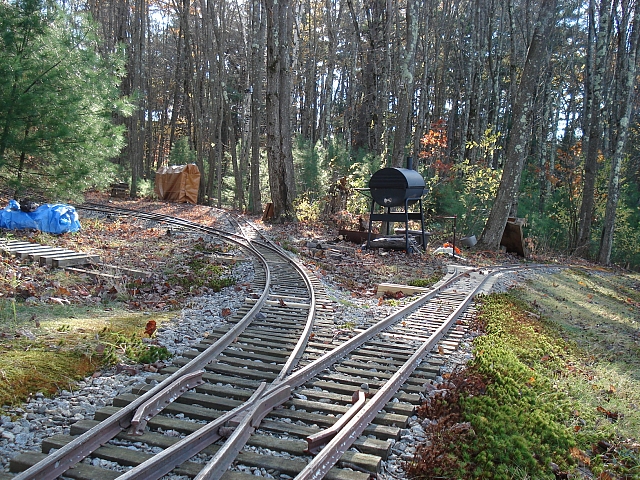 -


Now the rails have been spiked down, and the main line is back in business. You can see why real railroads would want to get this done as quickly as possible.

-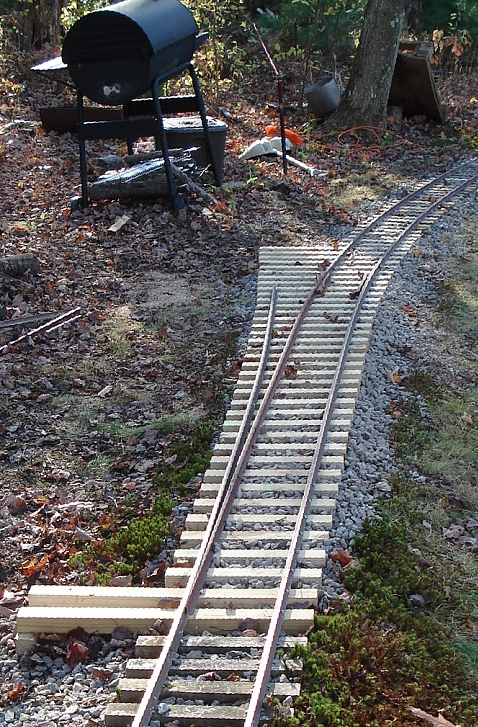 -


But the Doghouse Spur has not been fully developed yet. And what for? There is currently no place for it to go. But you can see it lining up to a string I have stretched to where the new track goes.

-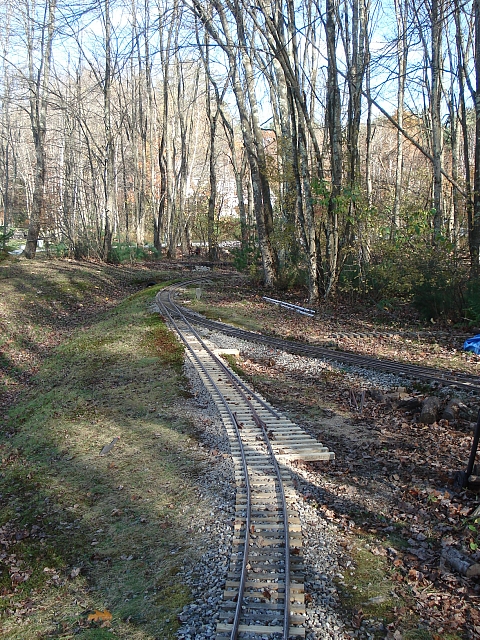 -

November 18, 2012
Doghouse Spur Completed
+ Doghouse Construction
-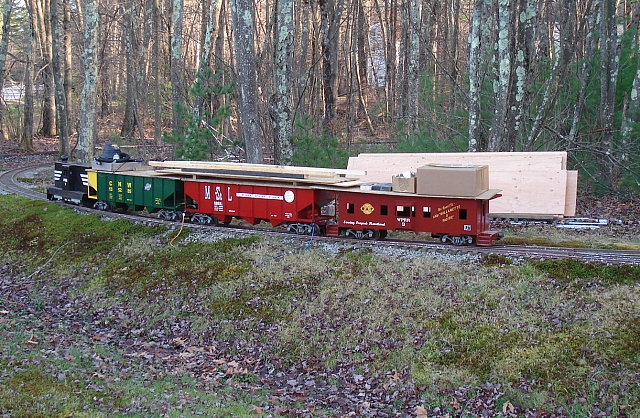 -


Now that the new spur is completed, it's time to work on the car storage boxes. Here is a work train that is used to move and store the plywood for the boxes.

-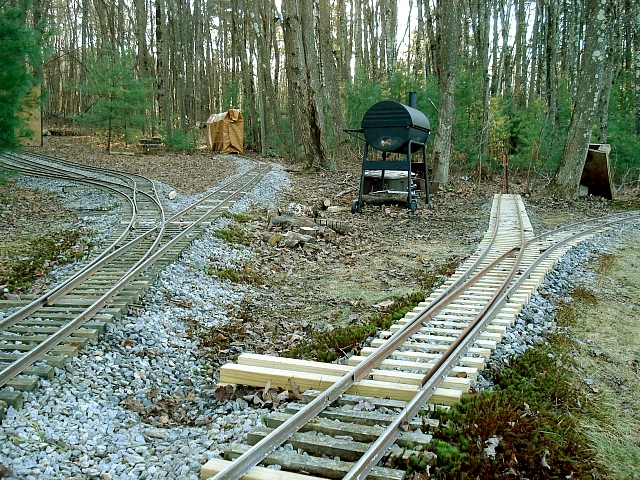 -


And here is the newly completed Doghouse Spur. It lines up to my string faily well. One frog guardrail is still missing and the switch has no drawbar or control device. So I can't put a train on it just yet.
December 4th, 2012
Doghouse Completed
-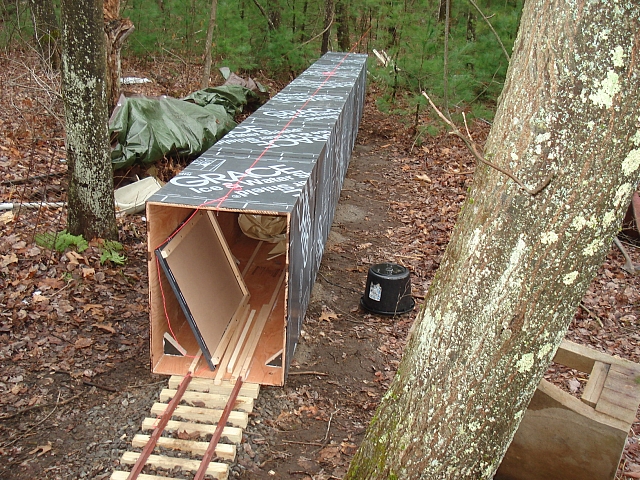 -


There are now three car storage boxes completed. That's enough to store all the cars I currently have in tents. So the tents came down today. Notice the rear closure inside the first box. It has not been applied to the end box so that I can get the following photo and video.

Note that the boxes are wrapped entirely in this premium waterproof roofing underlayment material. This is what makes the boxes water tight and bug proof. Notice my string is now on top of the boxes marking the centerline.

-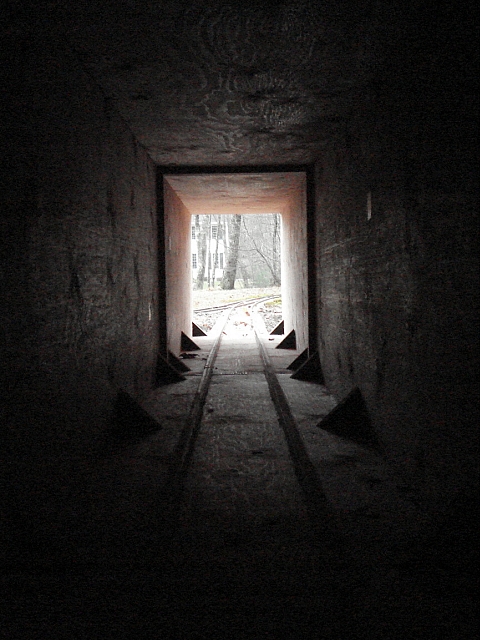 -


Inside is like being in some sort of tunnel or mine. It gets pretty dark in there. Notice the wooden rails on the floor of the boxes for the cars to run on.
December 12th, 2012
Got the Front Door On
-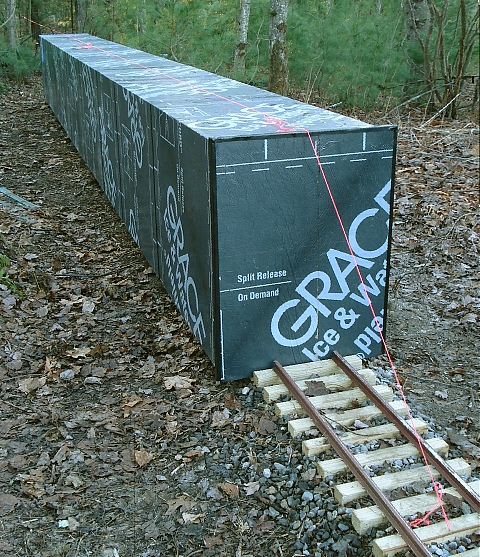 -


This W. R. Grace roofing underlayment really is good stuff. Just don't believe the part about "Split Release On Demand". That refers to a backing paper that uses a rip cord to split it down the center to make it easier to remove while working on a rooftop. The truth is - it comes with ordinary backing paper.

On inspection after a few rain storms, the inside of all boxes is totally dry. This storage system is probably almost air tight. If I can keep the rain, bugs, and mice out, I will be happy. This Ice and Water Shield may just be what I needed.

Notice the survey string still attached and still following the centerline. Yes, there is a string of railroad cars parked inside as well. So that makes two strings total.
December 30th, 2012
Winter Has Arrived
-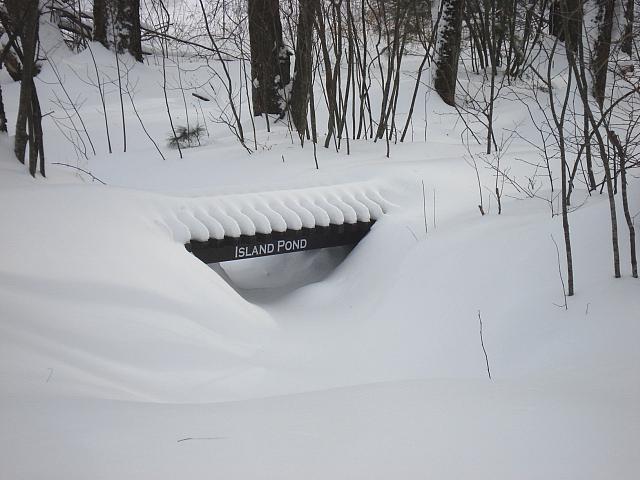 -


It happens almost every year. And this year will not be an exception. What you see here is the total snowfall from two coastal storms. Welcome to Island Pond Railroad - if you can find it.

-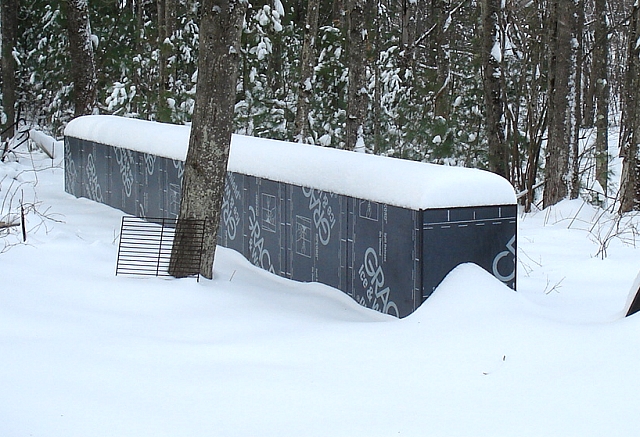 -


And here you see Grace's "Ice and Water Shield" doing just that. The nice thing about this roof undelayment material is - it comes with it's own graffiti already applied. Come next spring I think I might paint over it.

Now that you've read the story, go watch the movie...

-


Bill