Back to Page 1
Back to Page 2
Visit Powered Tender Truck page
8/15/13 - Adding Air Brakes
During testing of the Mikado, it was discovered that the locomotive brakes were not adequate to stop an entire loaded train, and car brakes are only for emergency use. It became clear I needed brakes on the tender.
-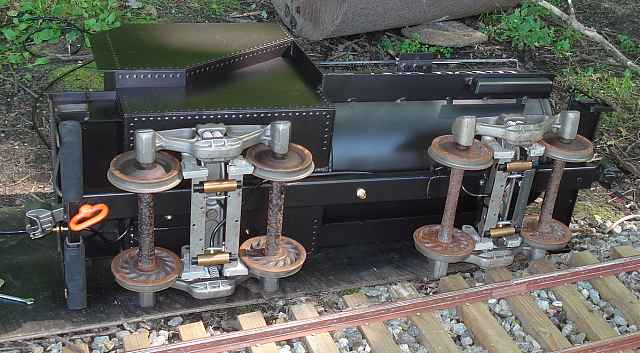 Image 13 - Tom Bee Trucks with Air Brakes
So off came the Mountain Car trucks. They were replaced with Tom Bee Bettendorf trucks with Tom Bee air brakes. This is the only car I have using air. All other cars have electric brakes.
-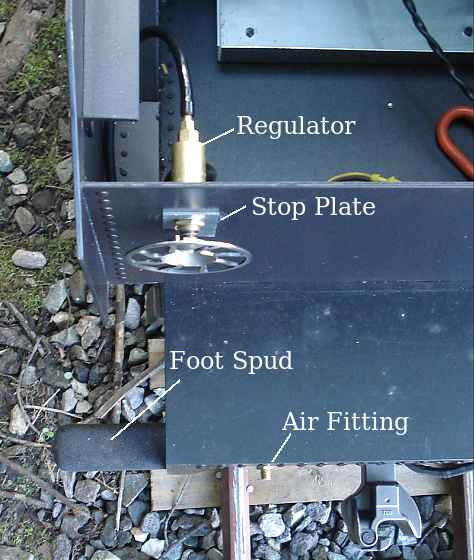 Image 14 - Brake Wheel and Regulator
This is a pressure regulator made by Clippard. It is sold by Tom Bee with a "baseball bat" style handle. I'm not into baseball and thought it wouldn't look good on my tender, so I replaced it with this brakewheel from Precision Steel Car Company. I also added a stop to keep it from rotating more than a single turn, else it would fall off and get lost.
You can also see the air fitting just above the rail that connects by a short hose to a similar fitting on the locomotive.
Parts list


 - Bunker Floor
 - Foot Walls         (2)
 - Wing Walls         (2)
 - Chute Slopes       (2)
 - Chute Base         (2)
 - Front Wall
 - Upper Rear Wall
 - Lower Rear Wall
 - Frame Tube              1"x2"x1/8" rect tube
 - Bolster plate      (2)  1.5"x3/8"x7.25"
 - Foot Spud Bar           12"x3/4"x1/8" angle
 - Foot Spuds         (2)  1"x5"x1/8" square tube
 - Side walkways      (2)
 - Upper Walk bracket (4)
 - Upper Walk Slats   (4)  red cedar
 - Tank 11 gallon          Harbor Freight Tools
 - Rear Walk Assy
 - Coupler                 Tom Bee
 - Drawbar pin
 - Truck              (2)  Tom Bee BFCT with air brakes
 - Brake regulator,
    wheel, tubing, etc
 - Bolster Pin        (2)  1/2" shoulder bolt (3/8" thd)
 - Tank steps         (2)
 - Top handrail       (4)
 - Side Grabs         (4)
 - Rear Step Assy     (2)
 - Front Step Assy    (2)
 - Front Porch
 - Drawbar
 - Seat Bracket       (4)
 - Seat                    plywood, foam, fake leather

Onward to Powered Tender Truck page
Back to Page 2
Back to Page 1